I fabricated a pair of small brackets which support the weight of the instrument panel in my Bede BD-4C airplane, solving the problem that I identified on November 8. The panel is now rock solid and the rivet holes in the fuselage skins line up perfectly.
My original idea was to run braces from the instrument panel to the steel weldment which stabilizes the nose gear. Then I considered running tubes straight down from the instrument panel to the C-channel which forms the base of the fuselage. Ultimately, I came up with a simpler solution composed of a pair of brackets, each just a couple of inches on a side.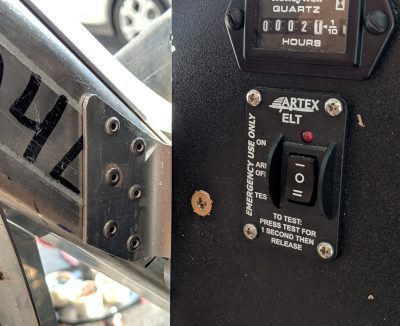 You can see the bracket attached to the square channel by six structural "cherry" rivets. A single countersunk screw attaches the panel to the bracket. There are several braces behind the panel which keep it from wobbling so I am not worried about the panel rotating against the screw.
I have mentioned nutplates many times in my blog. This photo of the back of the brace clearly shows the nutplate. It is riveted to the brace and the screw is sticking through it. The nutplate works just like a regular locknut except I do not need to get a wrench back there to hold it while I install or remove the screw.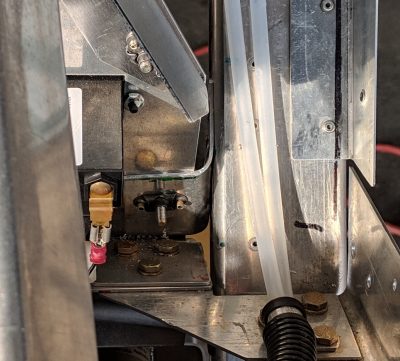 With that brace, and it's mate on the other side of the airplane, installed, the window frame is no longer being pulled inward and downward. The fuselage skin now fits just right and all of its rivet holes line up.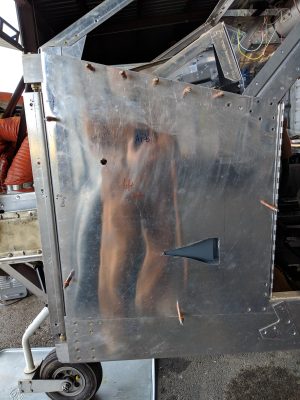 This piece, and it's mate on the other side of the fuselage, are the last pieces of skin which need to be bonded onto the airplane. The small round hole is for a static air port, part of the altitude and the air speed sensors. The large hole is a NACA scoop for a fresh air vent.
I also bonded the Reiff oil sump heater onto my engine last weekend. I still need to seal up the edges of the heating pad with epoxy or high temp RTV.