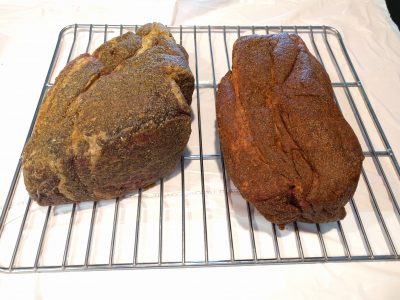 On this cool, sunny morning, I am running my new Char-Broil Digital Electric Smoker for the second time. I loaded it up with a pair of chuck roasts and tonight, Candy, Kevin, and I will taste test and see which rub we like best.
I have used a Weber Smokey Mountain Cooker (bullet smoker) for the last five years or so. I love the food it produces but, since I have to keep adjusting the vents to maintain the correct cooking temperature, it is not "set it and forget it." I don't have to do much, but it requires more attention that I can give it during a work day, so I only ended up using it for "special occasions" when we had family coming over.
When I saw this electric smoker on sale for 50% off at Farm & Home, I grabbed one.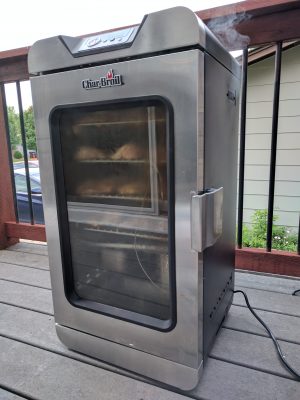 This new smoker uses a thermostatically controlled electric heating element. I tested it with 24 chicken thighs last weekend and, as I had hoped, it worked just like the oven on my stove. I set the temperature and it required no fussing whatsoever.
Today's feast has two chuck roasts with competing rubs:
2 Tablespoons salt
1 Tablespoon coarse ground black pepper
1 Tablespoon onion powder
2 Teaspoons garlic powder
1 Teaspoon paprika
1 Teaspoon Old Bay Seasoning
1 Teaspoon coriander
1 Tablespoon brown sugar
and
3 tablespoons smoked paprika
2 tablespoons black pepper
2 tablespoons tablespoons kosher salt
1 tablespoons granulated sugar
1 tablespoon mild chili powder
1 teaspoon ground cumin
I cut the quantities way down, because I have a pair of three pound roasts and did not need much rub for each one. I rubbed the roasts last night and let them sit in the fridge overnight. This morning, they went into the smoker.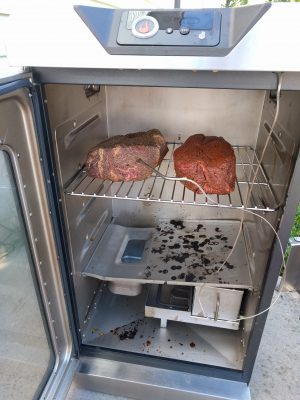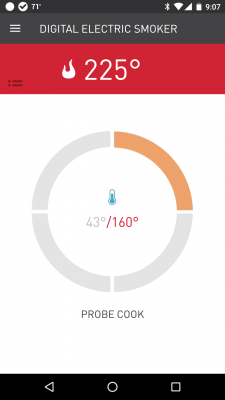 The app on my phone says that everything is fine inside the box. Now I just have to wait. When the meat gets to 160°, I will double wrap it in aluminum foil and raise the smoker temp to 250° to finish the cooking. Sure, I could do the last phase in the oven inside but why heat up the kitchen and run the A/C to cool it off again?
Update: The chuck roasts came out great! I smoked them for four hours at 225°, which brought the meat temperature to 160°. Then I double wrapped them in foil and raised the temperature to 250°. I expected it to take a long time for the meat to reach 190° but it only took an hour. I reduced the smoker temperature to 145° to hold until dinner time. Both roasts tasted fantastic. Candy preferred the first rub; Kevin and I liked the second. I shredded the meat and mixed some of the juice back in. The result was every bit as tasty as smoked brisket but with a wetter and less stringy texture. Highly recommended!
700th Blog Post
I am delighted to let you know that this is the 700th posting on my blog. I started on May 12, 2005 with Starting Out With WordPress. My commitment to myself was to blog for 90 days and then decide whether to continue or shut it down. Obviously, I am still enjoying my blog.
Over the years, I have blogged most about aviation (202 posts) with 120 of those posts about the Bede BD-4C airplane that I am building. You can see the complete list of categories in the right column of any page on the site.
Thank you for joining me on this adventure. Now… on to the next 700 posts!