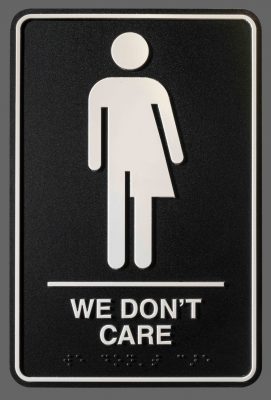 This week included a watershed day for me: the first time that I knowingly used the men's room with a transgender man. I followed a trans man into the bathroom and guess what happened: Nothing special. I used the urinal. He used a stall. I left. He left later (I presume, since I have seen him outside the bathroom since).
So I don't get it. What's the fuss all about? I did my stuff. He did his stuff. I didn't look at his junk. He didn't look at mine. Gee whiz… I could say exactly the same thing about any other visit I have had to the bathroom in 50+ years.
As a matter of a fact, writing this blog post was a bigger event than using the bathroom with a trans man. So can we stop arguing about who uses which bathroom and start solving real problems in the world, like too many people dying for stupid reasons or too many people who don't have enough friggin' food to eat???
'nuff said.
P.S. If you like that "We Don't Care" sign, you can buy one from All Is Fair.