I only have a little bit to say about my airplane this week so today's post starts in a different direction. My friend, Don, and I got to talking last night. He is building a wooden sailboat in his garage. How cool is that?! As it turns out, it's a bit too cool for Don to work on it this time of year.
Don, this is for you: Here is a photo of the NewAir G73, 5000W, 240V electric heater that I had installed. The thing does wonders for my two-car, insulated garage. You need something like this for your garage. It has a thermostat on the back so I can turn the temp down at night and then back up at lunchtime the next day. By the time I am done with may day job, the garage is up to 65 degrees-ish, which is plenty comfortable for me if I put on an extra layer. (Click any photo to see a larger version.)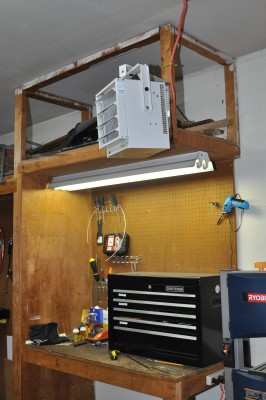 Progress on my Bede BD-4C airplane this week consisted of:
Priming the rear seat frame. Monday's weather was warm with calm winds so I got the pieces outside and sprayed primer on them. Not very exciting but it had to be done.
Trying to fit the ventral fins and discovering that I bent the "spine" of them too tight. I used a 0.25 inch bend and I think it needs to be 0.5 inch. As fabricated, the fins are too narrow to fit over the 0.5 inch tube from which the tail skid is made.
Drilling lots of little holes for rivets through the seat frame attachment plates into the fuselage.
Returning to the fuselage skins (next to the rear seat). I added a few more little holes so I could cleco them in position and get them to lay flat. A bunch of screws and bolts have to pass through holes in the skins. Getting it clecoed in position will let me make the holes in the right places.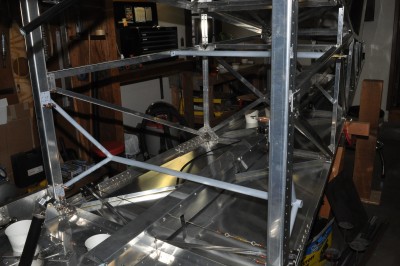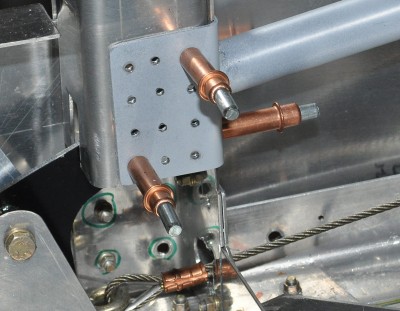 I had to mail order the drill stop to keep from going too far into the fuselage and dinging the aileron push-pull rods. While I was ordering the stop for the #30 bit, I also ordered them for the #40 and #12, the two other sizes that I use a lot. I was pleased to see that the drill stops are colored the same as the corresponding size clecos. Here is a photo, including the fasteners that go through each size hole.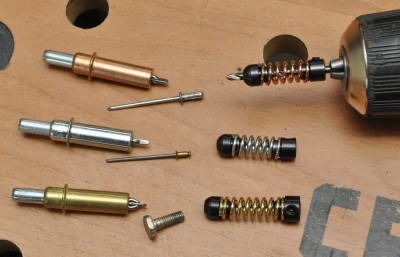 For those who have not seen them before, the top fastener is a dome-top rivet. The middle fastner is a smaller, countersunk rivet. The bottom fastener is an AN3 bolt.