We just bought a Mitsubishi i-MiEV electric car and boy-oh-boy is it fun! This little gem drives "just like a car," costs about 3 cents per mile to run, has four doors (plus a hatchback), and is surprisingly spacious. Believe it or not, the Mitsubishi i-MiEV is the "big" car in our family, being 10 inches longer than our Fiat 500 and with six inches more interior width. Here is a photo of our two cars together (click to see a larger version of the photo).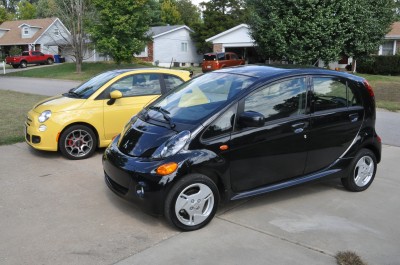 A couple of weeks ago, I had an free evening and decided to test drive the Mitsubishi i-MiEV. I had read about the i on the internet and was honestly intrigued when Car & Driver dismissed it with stuff like, "When merging onto a freeway, you'll wish for at least 67 horses" and "If a range of 62 miles works for your life and you want an electric car, the i delivers. Its weirdness even makes it interesting, or as interesting as a 2552-pound car with 66 horsepower can be." I like technology. I like small cars. I like unusual cars. I couldn't resist.
Lou Fusz Mitsubishi had an i on the lot so I headed over, expecting to find it lackluster and not something that I would spend money for. I was completely surprised. In normal traffic, both on city streets and on I-70, the i-MiEV had more than enough get-up-and-go to make me happy. Other than when merging onto the interstate, I never floored the "gas" pedal. I did not spend much time with the car, because looking at a car with a black interior on a moonless night is less than revealing.
I went back the next afternoon for a second test drive. This time the temperature was hot enough to need the air conditioning. I wanted to see how well the A/C cooled the car and how it affected performance. I had one of those doh! moments when I realized that the A/C would not affect the performance at all; it is electrically driven and not hooked to the drive motor at all. Turning on the A/C reduces your range from about 62 miles on a fully charged battery to about 52 miles but it has absolutely no effect on the car's acceleration or top speed.
I took the car on a 16 mile trek, some city streets and some highway. It has a "range remaining" gauge, which displays how many miles you can drive before the battery is drained (based on how you have driven the previous 15 miles). It was fascinating to drive the first 4.3 miles on city streets yet have the range remaining decrease by only 2 miles. This magic happens, in large part, through "regenerative braking." When you take your foot off of the accelerator pedal, the motor turns into an electrical generator, which puts drag on the wheels and recharges the battery. It feels just like downshifting in a regular car except it is smooth and quiet. When you begin to depress the brake pedal above about 20 MPH, you get more regenerative braking before the traditional friction brakes begin to grab.
The next 8 miles of highway driving zinged the range reserve significantly. Highway speeds, with the increased air resistance and the lack of any "regen" take a toll. Though the i merges easily into 60+ MPH traffic, cruises handily at 70 MPH, and has a top speed of 81 MPH, you will only go about 40-50 miles on the highway. It is primarily a city car.
The dealership was good enough to let me take their demo car for the weekend so Candy and I had a good chance to fairly evaluate it for the types of real driving that we do. We found an excuse for a 40 mile round trip on the highway to get bagels. We ran all of our around-town errands in the i. It took four of us out to dinner. The i-MiEV did everything we asked of it easily, silently, and efficiently.
The clincher was the price. I wanted an SE model with the "upgraded" interior trim. The one that we bought had a sticker price of $32,150. Mitsubishi Motors has a $10,000 rebate going right now, as they clear out the last of the existing stock of 2012 i-MiEV cars. (There were no 2013 cars shipped to the USA and the 2014 cars are coming soon.) And there is a federal tax credit of $7,500. My net cost for a brand new car, with warranty, was $14,650. How could I refuse?
Candy and I signed on the dotted line, got financing through Mitsubishi for $0.00 down and 1.90% interest, and drove our new black i-MiEV home a week ago.
Thus far, it has gone everywhere that I wanted it to go. There has never been a time when I wanted to drive somewhere but I had to take the "gas guzzler" Fiat 500 because the i did not have enough charge in its battery. I drive it during the day and let it recharge at night (except today, when I intentionally ran the battery almost all the way down before lunch and then plugged it in right away).
I bought a Kill A Watt meter so that I could measure the amount of energy (and pennies) that I "pour" into the car. I am tracking my mileage on a spreadsheet, which you can see if you like. The first three trips that I measured totaled 89.1 miles and cost me 3.3 cents per mile. I already have the silly electric-car-driver grin as I cruise past gas stations without stopping.