At long last, I am doing something large that actually looks like an airplane part! 😀 I am making the flaps for my Bede BD-4C airplane. The wings are 10 feet wide; the flaps are made of two 40 inch wide halves and the aileron is another 40 inches. To make each half of the flap, I do the following (roughly)
Cut the skin to the exact width.

Drill a line of holes along the trailing edge for the rivets.
Drill holes through the skin and into the ribs so that the skin can be screwed to the ribs.
Pretty simple, compared to some of the intricate stuff that I had been doing on the controls.
The wing skins that I received from BedeCorp are 48 inches wide. I started by scribing a line at the exact length needed for my plane, 39.875 inches. I cut close to that line with my Dremel tool. (You can click on this photo, or any other, to see a larger version.)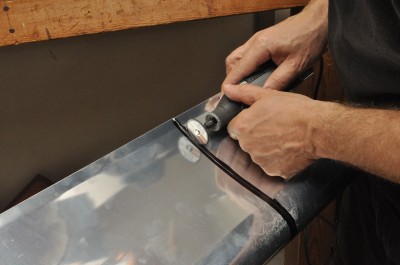 Then I use a file to trim the skin down exactly to the line. Between using a file specifically made to aluminum and the fact that aluminum is pretty darned soft, it does not take but a few minutes to do the final trim.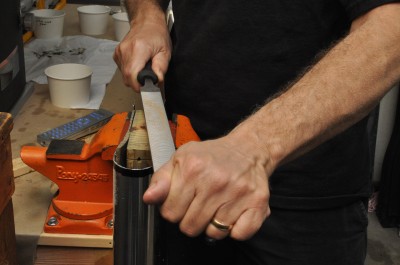 Then I insert the flap skin into the jig that I made and press it down with the three wooden ribs. It looks something like this (though this photo was taken with an untrimmed flap skin, so it sticks out the end of the jig).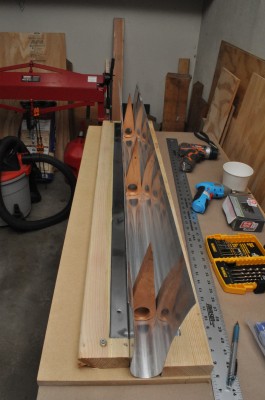 The rivet guide makes is easy to space the 19 rivet holes out evenly along the trailing edge. I carefully measure and drill the holes at each end of the guide, cleco the ends in place, and then drill drill drill.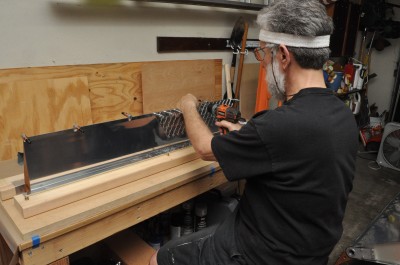 Making the holes for the ribs is much more mundane: just careful measuring with a ruler to set three screws in the top and three in the bottom of each rib.
Here is the first piece: the inner half of the flap on the left wing. You can see the actuator rod sticking out of the steel weldment in the foreground.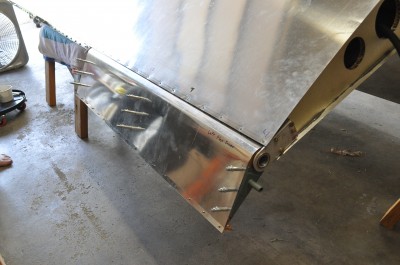 Here is the other end, showing the mid-flap support bracket.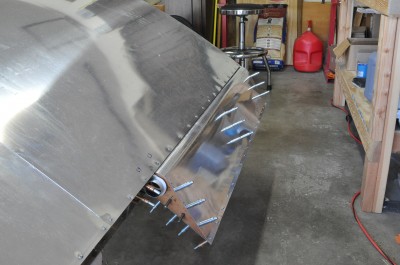 In case you are wondering, yes, I am wearing a sweatband in one of these photos. I know that I live in St. Louis because in the same month that it is so hot in the garage that I need a sweatband, we have had several night time low temperatures in the lower 40's and have had the furnace running.