People often look at me funny because I either choose to fly or choose to cancel a flight when the opposite course seems right. It happens because pilots look at weather a little bit differently, but that can be hard to explain when I do not have a computer handy. This morning offers a perfect chance to explain this kind of weird situation because I am not flying and have great graphics at hand to illustrate the situation.
I canceled a flight from St. Charles, MO to Oshkosh, WI this morning, despite gorgeous sunny weather in both cities. Not only did I cancel the flight, I cannot accurately predict when I will be able to make the trip, despite relatively good weather forecasts in both Missouri and Wisconsin. It could be 48 hours or more until I can safely fly, proving the adage: Time to spare, go by air.
I started my weather briefing this morning by laying my intended course on top of a current radar map. From this, you can see the immediate problem. (Click on the image to see larger version.)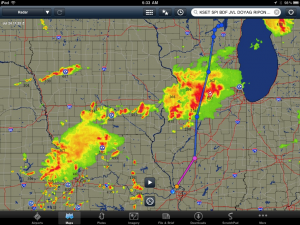 Small airplanes and red stuff on the radar map don't mix so the first thought is: Perhaps I could fly west, through the "gap" between the large storms. This might well be successful if the small storms cells over southeast Iowa are dissipating instead of growing. The animated radar loop answers this question. (Click the image to see it larger.)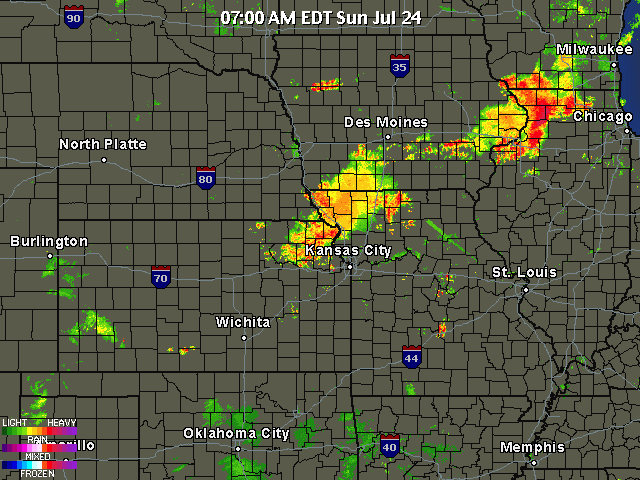 The animation, showing the progression of the storms over the last hour, shows that the space between the large systems is filling with more red stuff (strong, small storms). It is becoming a wall, not an open gap. With the closure of the space between the systems, the storm line from well west of Kansas City to Chicago blocks travel by small plane from Missouri to Wisconsin.
Since I cannot fly now, the next question becomes: When can I go? For this, we turn to the current surface weather analysis chart and the 24 hour forecast chart. (Click for larger versions.)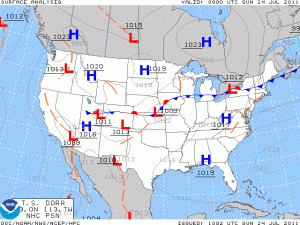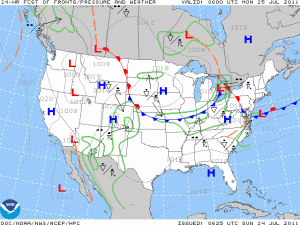 The surface analysis chart shows the weather at about 4:00am this morning. The 24 hour forecast shows that, at about 1:00am tomorrow, a front will still lie across my route and may well be generating more rain and thunderstorms.
From this unscientific analysis, I reached several conclusions. First, I am not flying to Oshkosh this morning. I am much better off at home, frustrated with a delay, than stuffed into a smoking crater in a farm field under a thunderstorm in Iowa. Second, there is some small chance that the storms will blow through by later in the day and I might be able to fly late this afternoon or early this evening. Third, tomorrow is another day, even though it does not look very promising, either.
If you want to poke around at these charts yourself, see www.AviationWeather.gov and www.Wunderground.com.
For the conclusion of this story, see When the Weather Cooperates.