When last I wrote about weather, I had cancelled my flight to Oshkosh, Wisconsin because of thunderstorms between home and my destination. I speculated that there was a small chance that the storms would move east, allowing me to fly later in the day. As it turned out, that was exactly what happened. In this posting, I will give you the rest of the story and explain how, as a pilot, I re-examined the weather and was able to safely make my flight after a six hour delay.
I started by checking the current radar map  and noting that the storms had moved east while, more important, new storms were not developing behind them. In other words, it looked like good flying just west of my intended route with nothing threatening to move in. Here is a picture. (Click on the pictures to see larger versions.)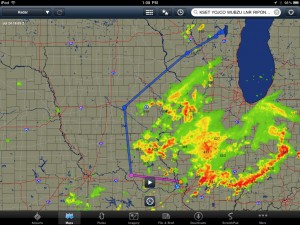 By taking a route west and then north, I would be able to get to a point where I could fly northeast into Oshkosh, completely avoiding the storms. There is a little bit of rain in Wisconsin but nothing that I would not be able to fly around when I got there. At worst, one of those might be directly over the airport when I arrive. Were that to happen, I would land at another airport in the vicinity and wait for half an hour or an hour, then take off again and complete my flight.
I wanted to confirm my guess about the lack of storms to the west of my intended route, though. There are a lot of people who know a lot more about weather than I do and, fortunately, pilots have access to some of them by calling Flight Service. I got a briefer on the phone and he concurred that no new storms were likely to develop to the west.
I did make the flight, as you can see in this screen snapshot. The weather in the image shows the storms when I took off. Since they continued to move eastward, I was able to cut the corners, saving distance and time, without ever flying through any significant rain.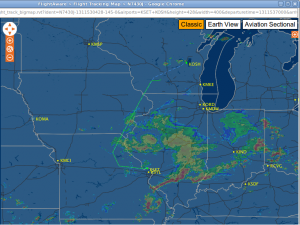 I did  run into some clouds around Madison but was able to fly east and into gloriously clear weather. Once out of the clouds, I landed at Oshkosh in sunshine for a most excellent week of camping at AirVenture. The delay was inconvenient but not terribly so. I hope that this pair of postings has helped you understand how pilots make go/no-go decisions based on weather tools beyond what is available on TV and "regular" weather web sites.