Gas prices jumped again: $3.89 today and I know that Missouri's prices are lower than many. I should count myself lucky; I work from home so I burn a lot less gas than most of my friends. I struggle to hang onto that warm, fuzzy feeling when I fill up my plane, though. The last load of avgas cost $5.66 per gallon.
Beyond the cost of fuel, my inner ecologist wants to do the right thing for our planet. It might be time to sell the minivan and buy a more fuel efficient Fiat 500 (for ecological reasons only, I assure you 🙂 ). Sure, the van needs brakes and tires but there is nothing else mechanical wrong with it. I am simply irked to use 6,000 pounds of steel to haul one or two people around town burning another gallon of gas every 18 miles. Common wisdom says: Replace the gas hog! But should we really? Might our planet be better off if we keep driving this thing? It has already been manufactured. It has already been transported from the factory in Korea to Missouri. If we keep driving this van, no new coal needs to be mined. No new iron ore. No new paint.
Here's a wild idea. Could we, along with a few of our neighbors, form a large-car co-op? Could each family own a small, fuel efficient car while sharing one large van? It would certainly take some life style adjustments, a need to coordinate our Costco trip with the neighbor's Home Depot run but it might be OK. How much better for the ecology to reduce the quantity of cars on the road rather than simply shave away at the size of the cars.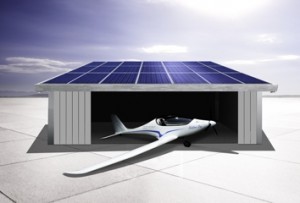 PC-Aero of Germany is launching a cool concept for personal aircraft. The Electra One electric airplane will be sold with a hangar with solar panels. Even with Germany's weather, the hangar will be able to provide "fuel" for 300 hours of flying per year. I like these outside-the-box ideas, especially when they involve engines and airplanes and skipping the gasoline entirely. As airplanes go, my Piper Arrow is pretty fuel efficient, getting 16-17 MPG at 150 MPH but flying 100% on solar energy sounds very tempting as avgas races toward $7.00 per gallon.
Are we finally reaching the point where we will rethink how we build roads, cities, and neighborhoods? Will we finally design our world to accommodate transportation by means other than personal cars?