Six years ago, I installed the two weldments for the horizontal stabilator on the tail of my Bede BD-4C airplane. Take a look at Getting Closer to the Tail for photos.
Four years ago, with help from Steve at BedeCorp, I fixed a problem with one of the weldments that holds the horizontal stabilator. You can read the whole story here: Straightened the Crooked Tail
Last night, I fixed a problem that I had created in the other weldment. The weldment that attaches to to the fuselage holds the bearings for the stabilator pivot. To install those bearings, I had to ream out the weldment slightly. Back in 2012, I goofed and reamed a little too deep into the weldment. Here is a photo of what it looks like now: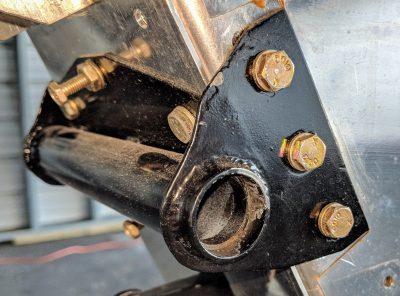 If you click on that, so you can see a larger version of the photo, you will see a thin shoulder about 3/8 inch inside the weldment. That shoulder is too far in. The mistake allowed the horizontal part of the tail of the airplane to slide left and right. Bad me. 🙁
I consulted with BedeCorp and decided to make a spacer out of a washer. I started with a standard washer and did a bunch of sanding. I had to reduce the outside so that it would fit into the 7/16 inch hole in the weldment. I also had to enlarge the center hole so that a 1/2 inch spacer tube would fit through it. Here is a photo of the spacer-in-progress and one of the bearings.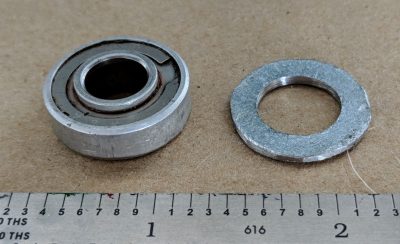 When I installed the spacer and bearing, the bearing stuck out of the weldment a few hundredths of an inch too far. I did a little more sanding on the spacer, to reduce its thickness where it contacts the shoulder of the weldment. Here is the final version.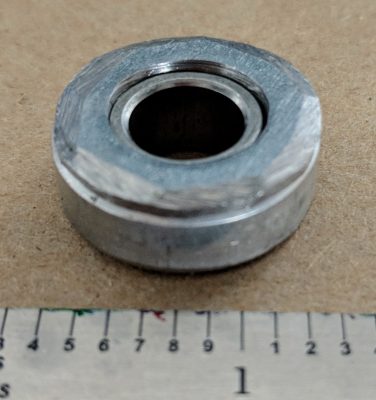 I put the weldments back together and, after a six year odyssey, I am finally happy with the fit. There is no slop at all. I will put the horizontal stabilator on the plane tonight and am very optimistic.