When I started cutting up steel for the back seat frame of my Bede BD-4C airplane, the chop saw threw off so many sparks that I singed the top of my wooden workbench. Being a bright boy, I thought that moving the saw to a metal table would be just a wee bit safer. 🙂
I went shopping and found the cheapest possible welding table at (no surprise) Harbor Freight. $79 seemed like too much money for a crappy tool, though, so I decided to build a welding table. It would be fun (I love flame!) and educational (I would learn more about welding) and less expensive (I'm cheap). I found a set of welding table plans at Lincoln Electric to use as a guide.
I visited Shapiro Metal Supply and was delighted with the experience. I must have been a sight, driving into a metal recycling business in a bright yellow Fiat 500, but the folks at Shapiro still treated me well and got me what I needed right quick. I walked out with 84 pounds of steel for just $55, plenty of metal to make a welding table and have a bunch of scrap left over just for practicing welding.
Last night, I spent about three hours mitering the ends of four pieces of steel angle, welding up the frame for the table top, and then welding on a sheet of 1/8 inch plate. My table top is done and here are the pictures to prove it.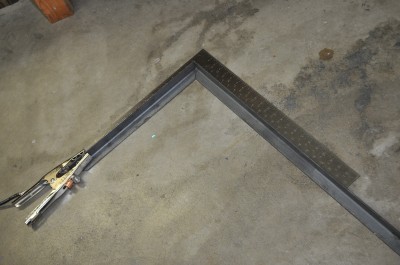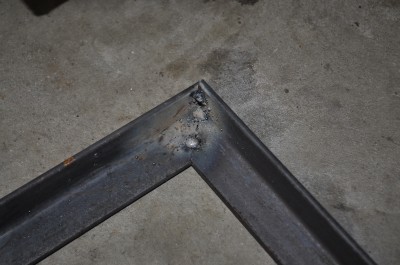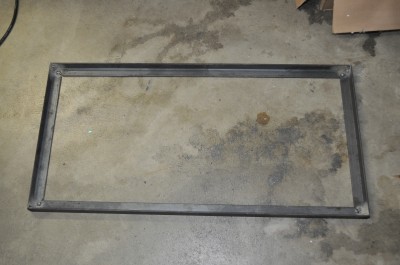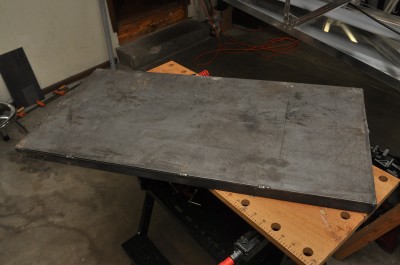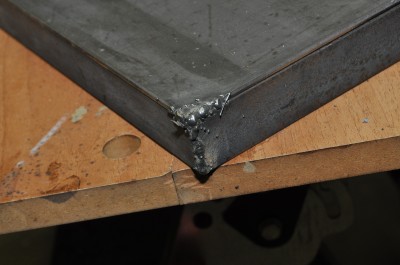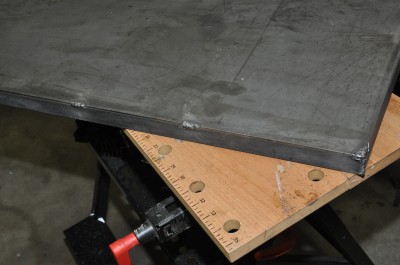 I am definitely learning. Switching from trying weld with solid wire (MIG wire) without shielding gas to using flux wire (flux welding) took care of the initial problems that I was having. Now the problem is lack of skill but I'm working on that one. As I build the rest of the pieces of my table, I will trying a lower wire feed rate. Please post a comment below if you have other suggestions.