After spending much time and effort to properly create the large fuselage skins for my Bede BD-4C airplane, you would think that I would want to keep them nice and whole. You would think wrong. Two of them needed large holes cut into them. The top skin needed a hole for the vertical stabilizer's spar and the left skin needed an inspection port.
For the inspection port, I set my circular hole cutter as large as it would go (about 4½ inches in diameter), chucked it into my hand drill, and set to drillin' on my airplane. That was kind of touch and go for awhile. The hole cutter is designed to be used in a drill press, slowly cutting into something which is clamped down and held perfectly perpendicular to the drill bit. You are not supposed to use the circular hole cutter in a hand drill. Fortunately, I do not follow directions well so I used the hand drill anyway. I did concede to setting the drill on low speed using the variable-speed trigger to turn the cutter at just a few RPM. It worked. I got a nice large hole in the fuselage skin.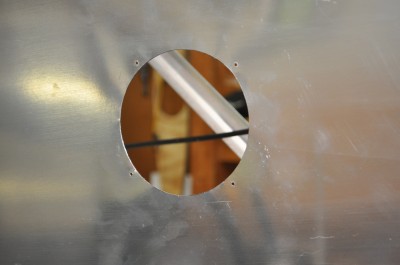 I then cut a slightly over-size piece of aluminum, 6×6 inches, to make the backing ring. I set the circular hole cutter slightly smaller, about 4 inches in diameter, and cut a hole in the backing ring. Then I used my sander to reshape the backing ring from square to round.
The last step was to cut a circle of aluminum to exactly fit in the hole in the fuselage skin, i.e. to be the cover for the inspection port. I roughed it out round and then sanded it down bit by bit until it fit just right. Here are the pieces.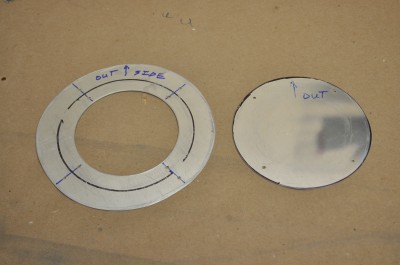 The backing ring will get riveted behind the Bede BD-4C skin. Here it is, clecoed in place. The small holes in the ring, visible just inside the clecoes, will be replaced with nutplates.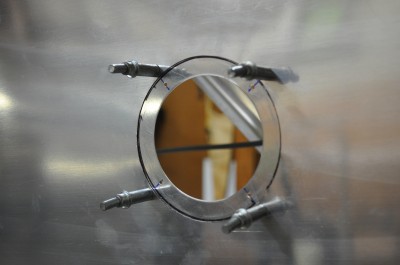 The cover goes into the inspection port and fastens to the backing ring. Once complete, there will be screws through the cover, going into the nutplates in the backing ring. I will dimple the metal so that the screw tops are flush with the surface. For this photo, you guessed it, more clecoes.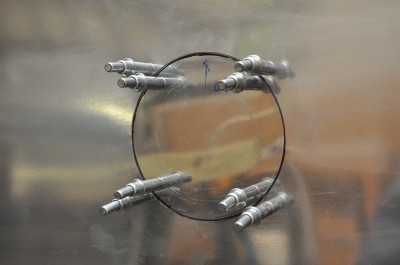 Finally, here is the obligatory long shot, so you can see where this inspection port is on the Bede BD-4C airplane.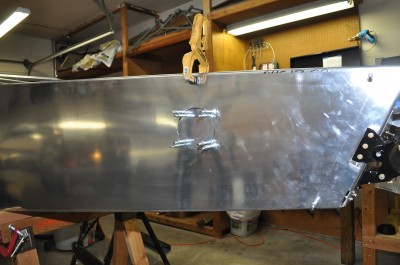 Update 4/10/14 7:40am:
Brian wondered what can be seen through the inspection port. You can see the rudder bellcrank and connections. Here is a photo.