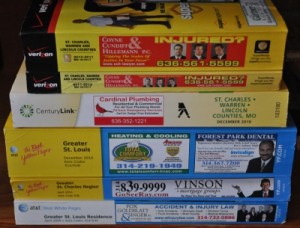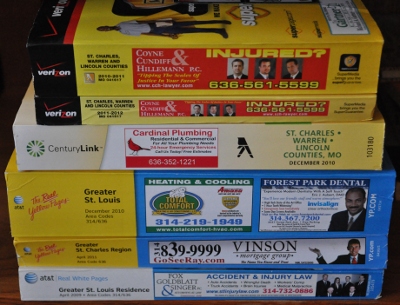 I don't know how well it works (yet) but I just used the National Yellow Pages Consumer Choice & Opt-Out Site to decline all five of the big books that have been delivered to our doorstep annually. Several years ago, we cut the cord and terminated our AT&T home phone service, switching to a VOIP service for a fraction of the cost. About two years ago, we stopped using even that, switching to just our cell phones. We do still have the old home phone number but pay just $5.00 per month now to have it forwarded to both of our cell phones.
The only reason that we have been getting paper phone books is that our business still maintains a phone number with AT&T… solely for the purpose of maintaining a listing in the phone book. Having that number has bestowed the privilege on us of receiving the Big Books which no one actually uses. Writing this post has me thinking that it is probably time to port that final number to our VOIP provider since I cannot remember the last time that a legitimate customer looked us up in either the yellow or the white pages.
It's amazing how hard it is to change life-long habits. Dropping our satellite TV subscription a decade ago seemed huge but turned out to be a non-event. I think that cancelling our last wired-line phone service, and our last phone book entry, will be the same.
We have come a long way since the early 1970s when my dad listed himself in the Chicago phone book at Zeke Zzzypt. That only lasted a year, though, because he got too many crank phone calls. You can still find  traces of his gag if you search the internet for "Zeek Zzzypt."