Getting to AirVenture this year proved to be much more difficult than I ever would have dreamed. Chris Seto, who is also in EAA chapter 32 with me, and I planned to  fly up to Oshkosh on Sunday morning, July 25. This is not a very difficult trip in my Arrow, especially since I have made it three times before. You just take off from home (St. Charles County Smartt Airport) and fly north for about 2½ hours to reach the greatest airshow on earth. (Click any of the pictures in this posting to view larger versions of the images.)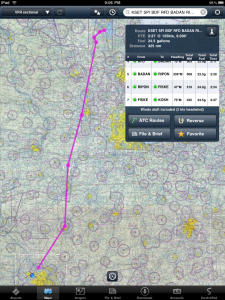 I packed Saturday afternoon, got a good night's rest, and was ready to go on Sunday morning. There was just one teeny tiny problem: after receiving ten inches of rain in July, the grass at Oshkosh was too wet to accommodate campers with airplanes, or cars, for that matter. Frustrating though it was, I delayed our departure for 24 hours; there was no sense flying north when there was nowhere to land. Better to sleep at home in my own bed for another night.
Monday brought more sour news, still no general aviation camping but the blog said, "The North 40 is still being evaluated, with the goal of opening it sometime today." Since Chris was at his house, not mine, I realized that we would need at least two hours from the time the airfield opened to be airborne. Chris would need to marshal his mother for the ride to my house, drive over here, we would then need to drive to Smartt field, load the plane, and take off. Add in the flight time and it would be almost five hours after the field opened until we were at our campsite. I figured that we could trim that time almost in half by heading for SET, loading the plane, and waiting at St. Charles Flying Service for the word that OSH was open.
Again, my plans were foiled by mud. Lunch time came and the North 40 at OSH was still to0 wet to allow arrivals. Chris and I borrowed the crew car from SCFS and got a bite from lunch. Surely, the field would open if given another hour of sunshine. But no, it did not.
Desperation was beginning to set in. If you think being all dressed up with nowhere to go on a Saturday night is bad, imagine being all packed for a vacation with nowhere to go. It turned out that Dodge County Airport in Juneau, WI, about 40 miles south of Oshkosh, was welcoming planes en route to AirVenture and would allow us to camp there overnight, if need be. Chris and I decided to fly as far as UNU and see if OSH opened up. If Oshkosh did open, we would only be about 20 minutes away. As we approached UNU, the airshow at Oshkosh was in process so OSH was closed. We landed for gas at UNU and to wait out the airshow.
While at Juneau, I spent quite a bit of time talking to folks from Evolution Trikes who where flying three of their Revo weight-shift trikes from Florida to Oshkosh. They were good enough to give me a ride in one at OSH, a couple of days later, and I immediately fell in love with it. Imagine riding a motorcycle at 60 MPH about 300 feet in the air on a beautiful summer afternoon. What's not to love?
Speaking of Juneau, I cannot praise the good folks at Wisconsin Aviation highly enough. So many of us had diverted to UNU that it looked like AirVenture had moved south. Despite this amazing influx of airplanes and people, everything ran like clockwork at Wisconsin Aviation with the staff uniformly calm, collected, cheerful and efficient. When I initially self-announced on the CTAF frequency, a friendly voice responded with confirmation of the weather and a suggestion for the current in-use runway. By the time we taxied to the ramp, a lineman was outside, directing us to the fuel pump. The plane was promptly fueled and moved to a secure location (on pavement, yet!). A frequently running shuttle van took Chris to town while I availed myself of a comfortable couch and some handy cold cuts for snacking. Wisconsin Aviation won AvWeb's FBO of the Week on August 2. Congratulations!
With the airshow scheduled to end at 6:30pm, a whole slew of planes departed for RIPON, the entry point for arrivals to AirVenture, a few minutes after 6:00pm. The plan was to be in position, just outside RIPON, when (if) the field opened and then to dash in to a landing before someone changed their mind and closed the field again.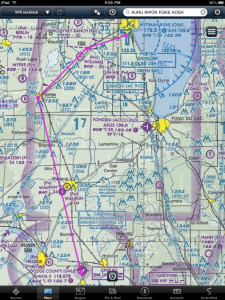 Not surprisingly, we were not the only geniuses with this idea. Flying just south of RIPON at 6:20pm on Monday, July 26, was more exciting than I like my flying to be. There were to many planes in the air that Chris and I actually stopped calling the traffic out to each other; it was impossible to verbally spot each one. The AirVenture powers-that-be did open the field and we were able to fly our approach and land on runway 18R.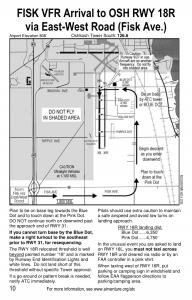 Once on the ground, I expected to be directed to the North 40 for parking and camping. Since very few planes had gotten in thus far, I figured that we would be on the south side of runway 9-27, between the red shower house and the entry gate, all together a prime location. Bizarrely, we were directed to the far northeast corner of the field and parked in an area clearly signed, "No Camping." Once out of the plane we learned three things: 1) We could not camp where we parked because there were no toilets, no water, no showers, and no regular bus service. 2) We should load out stuff onto school buses and we would be driven to the North 40 where we could camp (but not taxi or park our planes). 3) The field was closed again; they had so many planes on the ground that they figured it would take until dark to get us all settled in. Chris and I were lucky, we had squeaked into the field during the slim hour that new arrivals were allowed!
Chris hopped onto the first bus and headed off to find the friend he planned to camp with. I got onto a somewhat later bus which took me to a great spot, just two rows from the shower house. After setting up my tent, I headed off to a much needed steak dinner and a few beers with my new camping neighbor, Doug Kropelnicki.