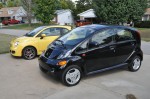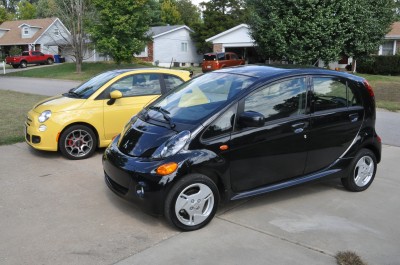 I have been driving our new Mitsubishi i-MiEV electric car almost exclusively since we got it, two weeks ago. I still grin like a fool as I glide virtually silently from a stop up to cruising speed. I grin even more when I lift my foot off of the accelerator pedal and the gauge on the dashboard indicates that the car is recharging the battery as it slows down.
The other night, Candy and I had tickets to a play. The theater is 26 miles from our house, almost all interstate. It was also cold, which necessitated running the heater in the car. A round trip of 52 highway miles with the heater running was farther than I am comfortable taking the Mitsubishi. I sure did not want to be "out of gas" at 10:30pm on a cold night. This was clearly a trip for the gas-powered car.
We hopped in our Fiat 500, I started it up, and was immediately struck by the vibration. The Fiat is a pretty smooth car, especially at idle in the driveway. But after spending two weeks driving a car with no vibrations, it was surprisingly noticeable. I knew that electric cars are quiet and smooth but did not expect to become to accustomed to it, so quickly.
It's nice. 🙂