President Bush announced a "plan" to get holiday travelers to their destinations closer to on-time this holiday season. CNN.com wrote it up in, Skepticism about holiday air travel 'express lane'.
Bush announced a series of technical measures Thursday to reduce air traffic congestion and long delays that have left passengers stranded and turned holiday travel into "a season of dread for too many Americans." Among the most innovative: Opening two lanes of restricted military airspace off the East Coast to commercial airlines from 4 p.m. ET Wednesday through the following Sunday.
I thought it might be interesting to look at a hypothetical flight from New York La Guardia airport to Miami and see how much time would be saved if the plane was routed "direct" through the restricted airspace near La Guardia instead of being required to fly around the restricted airspace.
First, I set up my Voyager flight planner for a jet flight direct from LGA to MIA. Then I manually routed through the pathway in the restricted airspace off the east coast of New York and around the restricted airspace northeast of Miami.
Second, I modified the flight, allowing it to fly directly through the airspace near New York. I do not know exactly where Bush plans to open the "express lanes" but I am giving him the best possible shot here, by assuming that the lanes will be exactly where I need them to save the most time on this flight. Here are the two flights, side by side (click the picture to see it larger):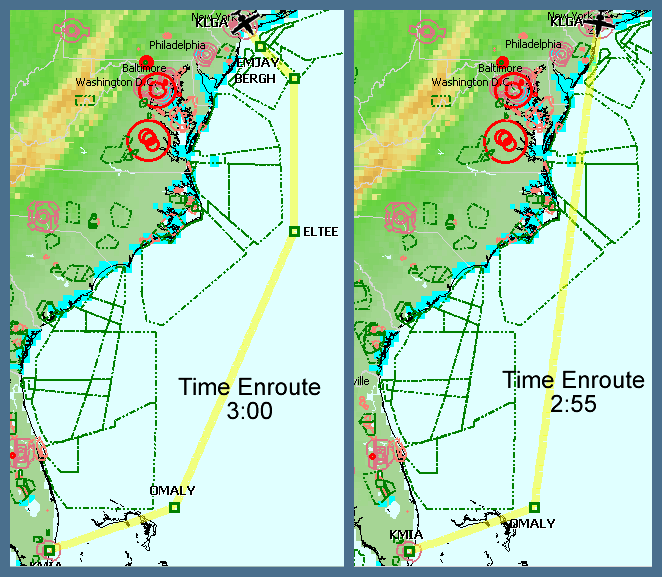 Time saved: just five minutes. Oh boy.
Worse, his express lane plan ignores the real problems, such as
The airports have a fixed number of runways which means they can only handle so many airplanes at a time, and,
The airlines schedule way more concurrent departures and arrivals than the airports have runways to handle.
When our jet arrives five minutes earlier at Miami, will there actually be a runway available to land on? Or will it have to wait its turn to land?
Mr. President: Stop deceiving us with "solutions" that don't actually solve anything. Stop blowing smoke up our asses.
Airlines: It is absurd that more than 24% of the flights in the United States in September 2007 arrived late. That is the worst on-time performance since comparable data began being collected in 1995. Worse, in these Department of Transportation figures, 'on-time' means less than 15 minutes late.